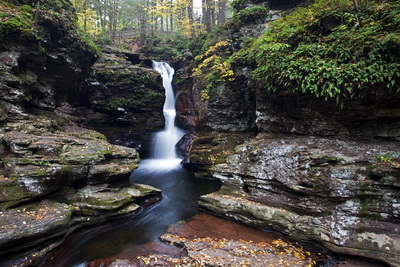 Ricketts Glen State Park website at DCNR
        Ricketts Glen State Park has been a huge part of my life at least since I've been able to drive. We'd skip school and climb around this glorious place, then get back in time to avoid detection, thankfully invigorated. I remember running downhill off-the-path as fast as my legs plus gravity could carry me, which was much faster than I could run, dodging holes, ruts and unexpected ground shifts, and suddenly hopping fallen logs without knowing what was on the other side, yet knowing with each blazing step of unpredictable, varying lengths, I was not able to think or react while letting my body fall. I was at the mercy of existence. It was a great feeling, not unlike creativity in that creativity occurs when we get out of the way. No credit, no blame. Just experience.
        There was once a physically detatched experince with Ricketts Glen while I was with a band in 1969 called The Bouys. We were in NYC "doing an album" at Sceptor Records. Steve Furmanski & I wrote a song in the break room while Bill was laying down the vocal track, or during some other lag time that was inevitable in recording then. The producer liked it and had an idea to insert a verse of the tune between each of the other songs on the album, so Steve and I wrote one gazillion verses that night while "sleeping" in the producers living room. I was subsequently kicked out of the band, but the song is still one of my favorites written with Steve. The name of the epic tune is Streams for short, but Streams That Stem Together for the pedantic historian. It was about some of the magic of Ricketts Glen State Park. [I'll try to look up the lyrics (my contribution to this tune) and post them here someday. Push me here if you like.]
        WINTER RULES!!!! That's something I must MUST mention. Some of the photos you may see from this park will show ice, and these were taken from relatively safe vantage points ~at least the ones from this website. The park is closed for the winter months, and you must qualify for and obtain a pass from the park office. See their website for a complete list of requirements. One spring a teenage girl wearing sneaks fell some 90 feet. Fortunately she was accompanied by two friends who were able to stay and get help. The park office told me it took a team of 45 volunteers and experts, two of whom sustained injuries, to recover her. The rescue lasted, and fortunately so did she, from 1pm when she fell until 3am when she was on her way to the hospital. All that PLUS the fines.
---
The Parks Photos galleries of Ricketts Glen State Park, PA:
---
.